| | |
| --- | --- |
| | |
Content_Linked_Main_Image.php
->
dbg
(
looking for medium profile
)
string(26) "looking for medium profile"

Traceback +/-
Kingston Rudieska
from seoul Korea, South
For over 14 years, Korea's first traditional ska band, Kingston Rudieska has been paying homage to the classic sounds of Jamaica. A powerful example of ska music's truly global appeal, Kingston Rudieska is a 9-piece ska band, featuring a 4-piece horn section and the supple vocals of "Sugar" Lee Seok-yul. Heavily influenced by the legendary Skatalites, their sets are high-energy throwbacks that often feature songs from their musical heroes. Featuring more than a couple members with traditional jazz backgrounds, a loose, improvisational feel belies the incredible musicianship on display when the band takes the stage. Their incredible skill and deep love of the music they pay respect to has helped spread Jamaican-rooted music to a still-discovering part of the world, playing at many Korea and Japan's biggest festivals.
No audio samples have been linked to this profile.
No member roster has been entered (to link to musician profiles.)
Videos
Posted: Jan. 6, 2021
Filmed: Sep. 10, 2020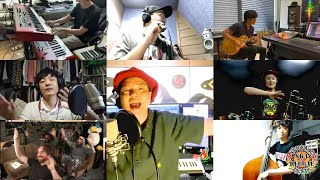 Posted: Oct. 2, 2020
Filmed: Sep. 10, 2020
Status:
Available for Shows/Gigs
- Last confirmed Mar. 27, 2018